Thanks everyone, it's been a great start.
See you at the next CRISS-lecture in summer 2018!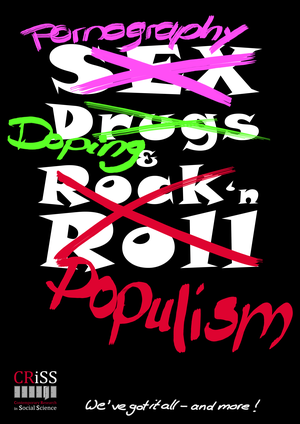 New Interdisciplinary Lecture Series: CRiSS – Contemporary Research in Social Science
Members of the Faculty 02: Social Sciences, Media and Sports present their current research projects and provide insight into their research activities. A great variety of topics will be covered in summer term 2017, including twitter, fake news, corruption in soccer, refugees, modern doping, right-wing populism, pornography on the internet, stress at work, and more:
The lectures are held in English. International students can achieve a total of 4 ECTS by submitting extra course work.
Find out more and visit our website: www.sozialwissenschaften.uni-mainz.de/criss/
Time: Wednesdays, 6pm - 8pm
Location: Due to strong demand! New room: P 13 (Philosophicum)