Types of Courses
The typical forms of courses are described as follows, although the specific form may vary depending on the lecturer, the faculty and the subject.
Vorlesung
Usually a weekly lecture held by a professor in front of a large group of students. Typically with little interaction (depending on the lecturer and the size of the audience), unlimited number of participants and no compulsory attendance.
Seminar
Usually a weekly seminar held by a professor or assistant lecturer with a smaller group of students. To create a pleasant and productive working atmosphere, the number of participants is limited and attendance is obligatory except for duly justified reasons (like illness) in very few (usually two) cases. Participants play a much more active role. For example, they have to take part in discussions and prepare presentations and written assignments. Depending on study progress, there are different kinds of seminars, starting with "Proseminar" or "Basisseminar" for beginners, followed by "Seminar", "Hauptseminar", and "Oberseminar".
Übung
Practice workshops to deepen and extend the contents of other courses. Here you can try out and apply what you have learnt. Usually with the same conditions as seminars, such as limited access, compulsory attendance, and active participation.
Tutorium
There courses usually provide extra help for difficult, important, or very specific contents and skills, taught or needed in other courses. They are an additional possibility for practice and deepening one's understanding. A particularity of tutorials is that they are usually not held by professional lecturers but by more advanced students.
Blockveranstaltung
All of the above mentioned courses can theoretically also be offered as compact courses. Then, they are not held every week but in one or few longer blocks.
General Course Catalogue
You will find the course catalogue on the Study Information Network (JOGU-StINe). In order to find lectures and courses you can choose first click on "Course Catalogue" (or "Vorlesungen" in the German version) at the top of the page. After that you have to choose the respective semester on the left, for example "Summer Semester 2016". If you click on that you get an overview of all the faculties at our university. For our faculty, click on "Fachbereich 02: Sozialwissenschaften, Medien und Sport". After that you choose the respective subject. You are able to choose from a variety of different lectures and courses.
You can use JOGU-StINe especially for filling out your Learning Agreement. 
Courses Taught in English
While browsing the Information Network you will notice that the course language is mostly German. However, some courses are taught in English. Since those are not always easy to find in JOGU-StINe, we list the faculty's Englsh courses below:
The Social Scientist's View of Germany (Seminar and Tutorial)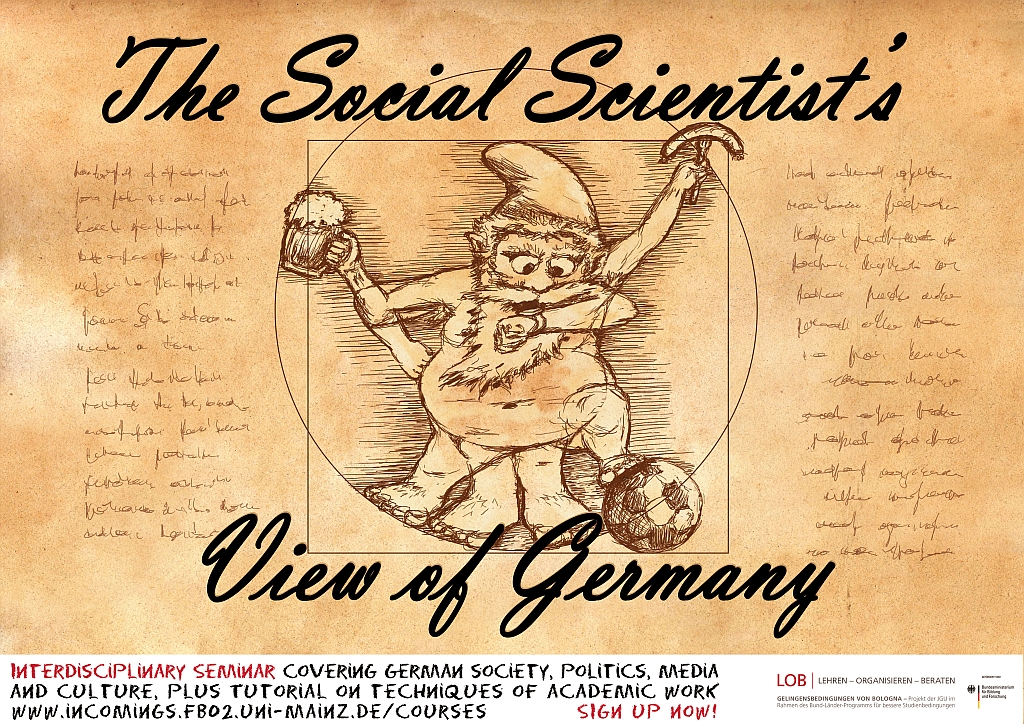 Seminar (Winter Term 2017/18)
Students of the social sciences from all over the world taking part in this seminar will get the opportunity to view Germany from various perspectives within the social sciences. The seminar will provide insights into a wide range of topics related to German society, politics, media and culture.
The lecturers, who are social scientists themselves, will teach and discuss different perspectives on the multiple course topics. Within the seminar's interdisciplinary approach students are encouraged to contribute by actively sharing their views on the topics at hand as the seminar's concept is a highly interactive one. To successfully take part in the seminar (5 ECTS) students will have to fulfill the following requirements:Oral presentation + written exam + term paper (incl. a draft) + class participation
Time: Wednesdays, 4.15pm - 5.45pm
Location: SB 2, Room 03-436
Tutorial (Winter Term 2017/18)
The seminar will be accompanied by a tutorial (3 ECTS) introducing students from abroad to the techniques of academic work within the German university context. By attending this tutorial students will be able to meet the formal requirements concerning literature research, oral presentations and term papers which are also very useful for other courses they will attend while studying at the JGU Mainz.
Time: Wednesdays, 6.15pm - 7.45pm
Location: SB 2, Room 02-146
The seminar and tutorial are open for all incoming students.
We recommend taking part in both the seminar and the tutorial.
How to register for the seminar and/or the tutorial:
Just write an email to international.fb02@uni-mainz.de providing the following information:
your first and your last name
your Matrikelnummer (if you already have one)
your field of study/your subject at your home university
if you want to take part in the seminar and the tutorial or just one of them
Beyond Clichés – German and international students in intercultural exchange (Intercultural training and media project)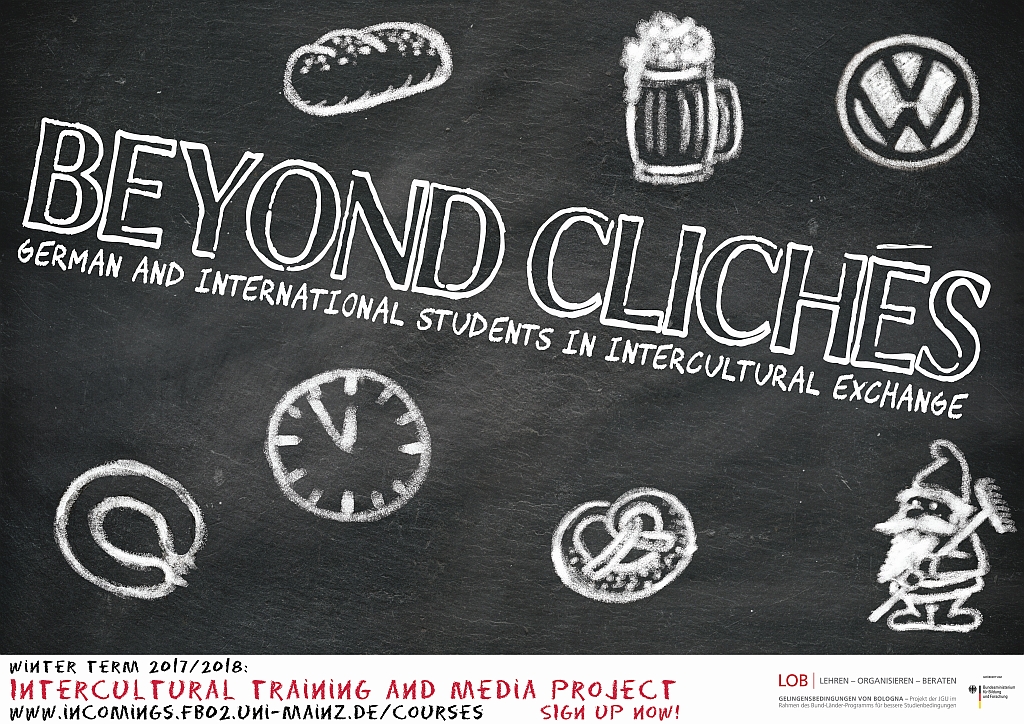 Aim:
We are keen to welcome students from Mainz and all over the world to participate in this comprehensive intercultural training. Students taking this course will team up in small groups to reflect on their own cultural background, how it is perceived by others, and how they in turn perceive habits shaped by different cultures.
Content:
Students get an insight into the basic concepts and theories of intercultural communication and apply their knowledge to their own intercultural experiences throughout the semester. Students are sensitized to pitfalls lurking when encountering different cultures, are enabled to actively shape their own presence in international contexts and to engage successfully in intercultural situations.
Course work:
The course work will consist of unique and practical assignments where international and JGU-students reflect on their intercultural experience in Mainz by keeping a learning journal and choosing from a variety of creative options including: filmed or animated videos, vlogs, photo journals, blogs or infographics.
Course details:
Winter term 2017/2018, Friday afternoon (within the time-window of 14:00-18:00)

three lectures from 14:00 to 17:15 (with a break of 15 minutes) at 20 October, 10 November, and 1 December
tutorial of 90 minutes in the weeks where there is no lecture

location: Georg-Forster-Building 02-607
open to all JGU students
3 ECTS and certificate of attendance
How to register for the seminar and/or the tutorial:
Exchange students: Just write an email to international.fb02@uni-mainz.de providing the following information:
your first and your last name
your Matrikelnummer (if you already have one)
your field of study/your subject at your home university
JGU students: Please register via Jogustine.
CRiSS – Contemporary Research in Social Science (Lecture Series)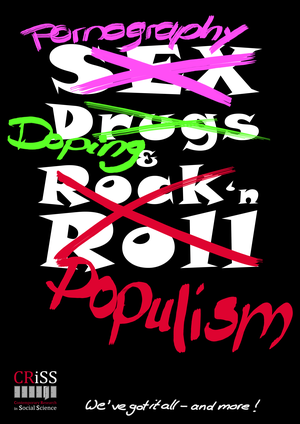 Members of the Faculty 02: Social Sciences, Media and Sports present their current research projects and provide insight into their research activities. A great variety of topics will be covered in summer term 2017, including twitter, fake news, corruption in soccer, refugees, modern doping, right-wing populism, pornography on the internet, stress at work, and more.
The lectures are held in English. International students can achieve a total of 4 ECTS by submitting extra course work.
Find out more and visit our website: www.sozialwissenschaften.uni-mainz.de/criss.php
Time: Wednesdays, 6pm - 8pm
Location: Georg-Forster-Building (Jakob-Welder-Weg 12), room 02-741
This lecture series is planned again for summer term 2018.
Other Courses Taught in English (Winter Term 2017/2018)
There are some more courses taught in English at the Faculty (they are not always described as such in JOGU-StINe). Please check with your home university if and how these courses can be integrated in your schedule (for example if you are not a student of the respective department). To enroll please contact the Studienbüros at the Department in charge.
Department of Communication
Please contact the Studienbüro (studienbuero-publizistik@uni-mainz.de) if you want to apply for those courses.
Department of Political Science
Please contact Dr. Annette Schmitt (schmitt@politik.uni-mainz.de, phone: +49 6131 39 21021) if you are interested in those courses.
Department of Sociology
Child Poverty and Child Well-being (Seminar)
Comparative Research on Values and Attitudes (Seminar)
Please contact the Studienbüro (studienbuero.soziologie@uni-mainz.de) if you want to apply for those courses.
Department of Sports Science
Please contact Dr. Anke Hollinderbäumer (phone: +49 6131 176747, e-mail: anke.hollinderbaeumer@unimedizin-mainz.de) if you are interested in those IMBEI-courses.